There were plenty of smiles and congratulations as a who's who of Marriott joined the owner of the Ribbon building, in which W Sydney is located, representatives from Placemaking NSW, Destination NSW, Tourism Australia and others to mark the opening of the property.
With 588 rooms, including 162 suites, W Sydney is the largest W Hotel in the world. The hotel also offers 1,300m2 of event space, including a Great Room of 592m2 which can host up to 390 in banquet.
"I can't tell you how excited I am to finally be here to recognise the incredible work of this team, the team that is in there, ready to serve everybody – I've heard incredible things about the service ethos, the experience that people are going to have," said CEO of Destination NSW, Steve Cox, at the opening.
"I'm really here to say a very, very big congratulations to everybody that's been involved in that project – let's be honest, it's had some challenges, we've been through pandemics, we've been through a few other challenges, but wow, great things in life are worth fighting for and things that sometimes are difficult are often the best.
"I can see here today that we have one of the very, very best properties, not only in Sydney, not only in Australia, without a doubt the Asia Pacific, but one of the very best in the world."
Failed building companies Grocon and Probuild worked on the construction of the Ribbon before collapsing during the pandemic. Multiplex completed the build.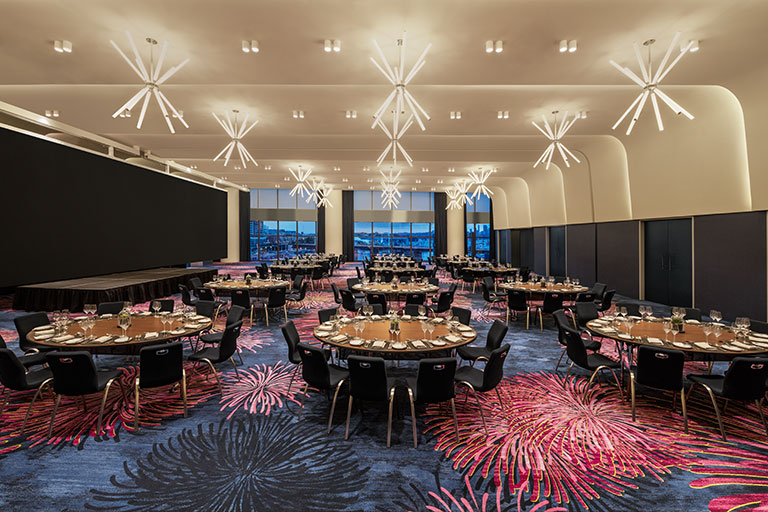 Wayne Wang, speaking for owner of The Ribbon, Greaton, called the hotel "Sydney's newest icon" and said the building was "a celebration of our ties to this beautiful city and our commitment and contributing to the vibrancy of this city".
"I have full confidence in Marriott and the W Sydney team as we embark on this exciting journey all together. Today as we open our doors, I will always be reminded that this hotel is more than just a great building. To me it is about resilience, collaboration and inclusivity," said Wang.
W Sydney's general manager Craig Seaward spoke of how the hotel's design reflected its home.
"It's been a long and protracted journey to get here today," he said.
"But today's opening marks a new chapter and a start of a new journey for the owners, Marriott and the hotel itself.
"I also want to recognise my incredible team who have worked tirelessly to set up the hotel and deliver what we believe will be a game-changer in the Sydney market. The market is ready for a hotel like W that brings a new luxury reimagined.
The design weaves uniquely Australian New South Wales stories, like the Waratah flower whose petals form our iconic W.
"The unique spirit of W Sydney, its exciting creativity and originality is something you feel in every touch point and at every moment of your journey through this incredible hotel."