"We spend a lot of time talking about our capacity to handle large events and we have the 878 bedrooms and the 4,000 square meters of meeting space, but I think while planners know us in that sort of realm, they may be surprised to know that we are also able to cater for the smaller, more bespoke events that can be a bit more unique and tailored for smaller clientele."

If there's one thing Lyons knows well, it's hotels. She's spent her entire career in them in Australia and abroad for the likes of Langham in London and New York, alongside Sheraton, Westin, Hilton and now Hyatt.
"I feel very blessed that I've had the opportunity to work in amazing locations but also with really amazing teams across all the brands and I've enjoyed every moment of it," she says.
"I'm passionate about being on the floor and being with my colleagues, the clients and the guests. That's what we're all here for, of course, but that's really what I love," she says adding that it's the personal connection that makes a property really resonate with delegates and guests – no matter the hotel size.
"One of the great events we did earlier this year which I think we should replicate all the time is a roving dinner. We started in our lobby bar and did cocktails on arrival and we moved to the heritage atrium section of the building and did this amazing long dinner themed like it was the heritage docks back in the day because that's what the heritage section of our building is. It's where Darling Harbor waters met the street.
From there, she says guests moved to the new Upper Deck event space on the 11th floor for dessert and cocktails. The space can accommodate up to 200 attendees overlooking Darling Harbour.
"The thing I like best about our property is the ability to do different things in different spaces, but you can combine it all in one event," she says. "We have these two massive ballrooms renowned for doing large conferences, but it's also nice to have these smaller spaces that are great to tailor for different sized events.

"People know us as the largest in Australia, they may not think of us for the smaller, more bespoke type events," she says.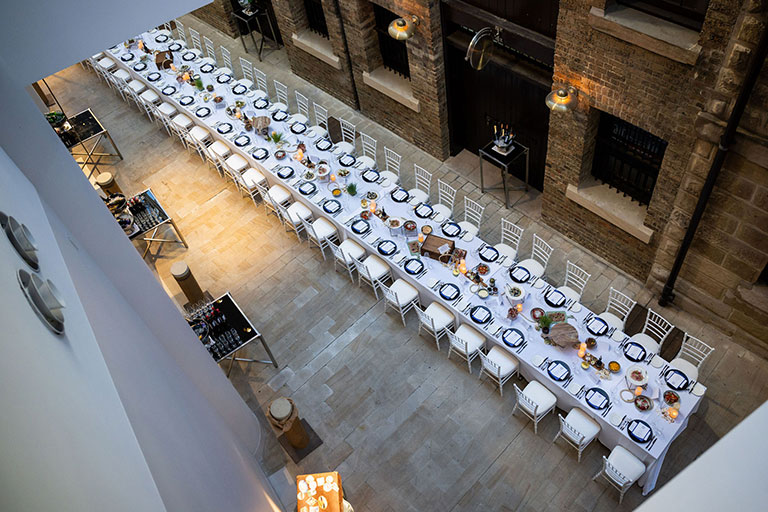 Like most venues, Lyons says they've seen a big boost in short lead events over the last year and a surge in interest from international planners, particularly in the USA for 2026 and 2027. Lyons attributes this to the value for money, particularly with the current US exchange rate.

"We're still recovering from that mindset of 'you're so far away' and flight prices are still a challenge for the overall budget, but there's some great interest for some big, chunky pieces of business as far out as 2027, which is great."
She adds that the focus and importance of sustainability initiatives hasn't passed them. She explains that Hyatt as a brand has a range of initiatives for minimising environmental impact as part of their global World of Care program. But it's the more personalised tools and program elements, she says, that really connect with planners and delegates.
While some planners enquire about sustainability programs simply as a tick box to ensure they're meeting their company's requirements, Lyons draws attention to their Hyatt EcoTrack program, allowing planners to calculate their events' environmental impact and utilise that data for even greater delegate connection.
"We can actually calculate the impact of a particular event," she explains. "We put in how many rooms, how many delegates etc, and we can actually, determine an impact."
This number, she says has proven useful for planners looking to offset impact or take it even further by incorporating initiatives into their program.
"For the planners, it gives them more tangible, specific information and we've done really great things in partnership with some clients."
She explains that a recent client held a multi-day event and chose to donate an afternoon tea on one of the days to the food rescue organisation OzHarvest Australia.
"We produced the afternoon tea as we normally would for the event and as part of their program, they saw that we had packaged it all up. We said, 'Thank you very much.' It was nice for the delegates to see OzHarvest there collecting the food and have a tangible activity that demonstrated their company's commitment to their corporate sustainability initiatives." She adds that it's these moments of delegate connection that create a truly memorable attendee experience.