"This is definitely the largest number of people that we have hosted across 13 different groups in the city," Business Events Wellington's manager Irette Ferreira told micenet in the evening after the mega famil wrapped up.
"Thirteen groups, 13 hosts, so we've brought back some of our former team members to help us today, because our team is actually not big enough to host this number. We're only six in Business Events Wellington and doing 13 groups meant we needed another seven people, so we've got some of our former colleagues that used to work with our team [helping us out].
"It's been a real team effort from current team members, former team members and a few other stakeholders that have stepped in as well," she said.
"A lot of our stakeholders got the opportunity to showcase to our business events industry what they've got to offer to delegates when they come here."
Twelve hotels had the opportunity to showcase to buyers, with major players in the business events market – including InterContinental Wellington, Sofitel Wellington, QT Wellington and the new Mövenpick hotel – hosting groups for lunch and others hosting morning teas.
Activities ranged from making chocolates at the Wellington Chocolate Factory to scone making at local eatery Pravda. Where they could, the Business Events Wellington team paired products to maximise opportunities for Wellington stakeholders – having a Wētā Workshop activity at the Wellington Museum and taking the local House of Dumplings to the Whistling Sisters craft brewery.
It was also a case of established and new business events products developing tailored activities for the day. There was a cake decorating competition in the Parliament Buildings, an institution used to accommodating business events groups, while the Fragrifert Perfumery worked with Business Events Wellington for the first time to create a suitable activity for business events delegates, which Ferreira said was "was an absolute hit" according to feedback.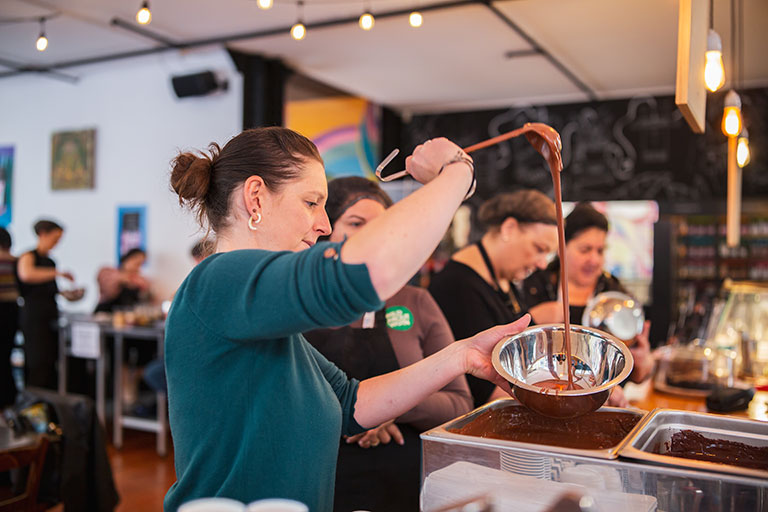 "From the experience perspective, some of [the experiences showcased during the famil] are absolutely in the business events space but some of them are not," said Ferreira.
"So there's been a good experience for us to also talk to people who are probably not that used to this but help them develop a product."
As part of one of the 13 groups on tour, micenet's already favourable impression of New Zealand's capital jumped up another few notches.
To start the day, our group visited the largest hotel penthouse in Wellington, inside the recently opened TRYP by Wyndham, New Zealand's first hotel under this brand. With four bedrooms, five bathrooms and a scullery, and running to nearly 400m2, it's more than twice the size of most inner-city houses in Sydney. It occupies the entire top floor, with floors below fitting 16 regular sized rooms, and can easily accommodate smaller groups for private dining or stand up cocktail functions.
The next stop was Boomrock, situated half an hour's drive outside the city centre. Our bus driver's pre-departure advice approximating "enjoy the scenery but don't look down" was a nod to the rugged beauty we saw on our journey.
A working farm with a venue and experience offering rolled into one, the majesty of Boomrock, perched on the cliff edge 250m above the Cook Strait and looking towards New Zealand's South Island, was breathtaking.
We spent our visit headquartered at the largest venue on the farm, Boomrock Lodge, which can seat 100 or host 120 standing, while also sampling surrounding adventure activities, including clay shooting, archery, axe throwing and extreme golf with increasingly challenging cliff-edge hole-in-one opportunities. A 4WD farm tour also revealed The Track, which offers a few exhilarating auto experiences, from revving a Land Rover Defender up a steep incline to speeding around the course in a Mercedes Benz sports car.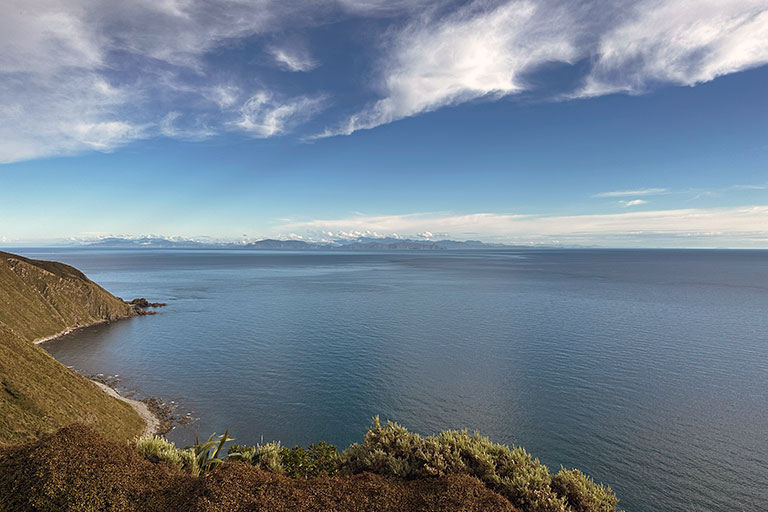 Our last stop of the day was at wine bar Noble Rot, back in the heart of Wellington. Like the advent of Boomrock, Noble Rot is the result of passion, adversity and triumph. We're led through both a blind tasting and the story of Noble Rot by its prolific head sommelier and co-founder Maciej Zimny, who also has experience at Sydney's fine dining institution Aria and at QT Wellington's restaurant Hippopotamus.
Proving the city's often mentioned claim of two degrees of separation between Wellingtonians, as we're wrapping up our tasting, the maker of one of the wines we have just consumed, pops in and is introduced to us, before picking up a different bottle of wine and mentioning that it was made by his neighbour.
Much of the growth – and the catalyst for future growth – for Wellington's business events product is the opening of the convention centre, Tākina, which gives the city a new business events scope at scale.
"We're anticipating a lot more delegates coming to the city with Tākina opening now and new conferences [coming to Wellington] and a lot of conferences we've never been able to host before," said Ferreira.
"The more conferences we have the more delegates we'll have and the more we need to be able to give suggestions to people about what's possible and what they can do and have variety because the same things don't necessarily interest everybody," she said. "This has been a good opportunity for us to do that."
She believes a major infrastructure addition to a city, such as a convention centre, can go one of two ways.
"You can either have a lot of support from locals or you can have zero. And in this city, there's been so much support and interest in this project.
"I hosted a site visit on the day of the opening with an Australian client and every place we went to, every single person was telling me how excited they were about the fact that tonight's a big night."
As the only one of New Zealand's new generation of convention centres to open on schedule, and with Tākina also completed, for intents and purposes, on budget, the project has been a major win for the Wellington City Council who own it and oversaw its construction. The challenge now is that the local business events industry and supply chain is jumping back into major conferences and exhibitions after a long pandemic-induced pause.
"We're opening a convention centre at time when we've not had lots of international conferences since COVID – the last time they had them would have been 2019. It's a quite a while ago," said Ferreira.
"I think it would have been quite handy to have had a bit more international conferencing recently.
"We've been out of practice and we're now getting back into it, but we're getting back into it at scale."