Marriott International makes APAC executive appointments
Marriott International has promoted several long-time staff into new senior roles for Asia Pacific excluding China (APEC).
Oriol Montal has become managing director of luxury for APEC, having spent the last 13 years in senior roles for Marriott, including as general manager of various of their luxury properties around Asia. In total, Montal brings more than a quarter of a century of experience to his new role, overseeing Marriott's luxury brands, which in – or coming to – Australia include The Ritz-Carlton, W Hotels, JW Marriott and St. Regis Hotels and Resorts.
With over 30 years of experience with Marriott, Andrew Newmark is the hotel group's new Chief Human Resources Officer for APEC, where he will be responsible for strengthening Marriott's 'people first' culture and for ensuring Marriott attracts the best talent to its hotels and resorts. Newmark also spent a brief period working in human resources for Accor in the early 2000s, between two long stints with Marriott.
After 27 years with Marriott, John Toomey has been promoted from vice president of sales and marketing to chief sales and marketing officer for APEC. He will be responsible for the consumer strategy in the region, including brand management, distribution, revenue management, loyalty, customer experience, digital and communications. According to Marriott, Toomey already has a strong record of driving performance and collaboration in sales and marketing efforts.
Meanwhile, Christina Chan, who has been with Marriott for 23 years, has been appointed chief financial officer for the APEC region and Karen Kim has been promoted to vice president of global design for APEC, after three decades with Marriott. Kim's new role will see her lead the global design team and in-region project management as well as overseeing new hotel openings and renovation of hotels already in the Marriott stable.
"Asia Pacific remains a strategic market for the company, representing tremendous growth potential and exciting opportunities for the business," said Rajeev Menon, Marriott's president for Asia Pacific, excluding China.
"I am confident that our new organisational structure positions us well for the next chapter of growth in the region."
Tourism Australia adds to its board
Australia's national visitor marketing agency has three new board members with Georgina Richters, Ian Horne and Linda Wayman all being appointed to the board.
A Luritja woman, Georgina Richters is the deputy chair of the legacy committee for the 2032 Brisbane Olympics as well as chairing the First Nations Arts and Cultures Panel for Arts Queensland. She also works as a First Nations advisor more broadly.
Over two stints, Horne was CEO of the Australian Hotels Association in South Australia for 30 years and is also currently on the board of Business Events Adelaide, the Adelaide Venue Management Corporation, which operates the Adelaide Convention Centre, and the South Australian Tourism Commission.
Linda Wayman spent 15 years as general manager of the Perth division of Southern Cross Media, Australia's largest broadcasting company and six as general manager of Western Australia's major events agency, EventsCorp. She has also spent time on the Tourism WA board.
Coming off the Tourism Australia board are Bradley Woods, Alexandra Burt and Katie Page.
"The tourism industry has faced a difficult couple of years with borders closed, and the Tourism Australia board and organisation, played a key role supporting our operators during this time," said chair of Tourism Australia's board, Michael Issenberg.
"Bradley, Alex and Katie were part of a team that drove a broad range of initiatives, from a domestic campaign, to industry support measures, and the development and launch of a new international brand campaign.
"There is still a big job ahead for Tourism Australia, and I look forward to the new board members joining us. Georgina, Ian and Linda all bring deep experience and fresh perspectives, as we continue to drive international tourism demand back to Australia."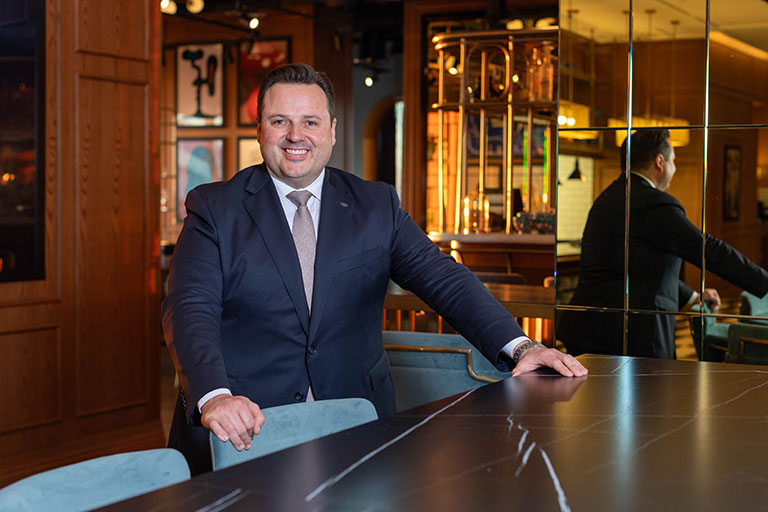 Sofitel Adelaide welcomes new GM
Following Rachael Harman's departure for Sofitel Melbourne on Collins, South Australian local Scott Eger has been selected to lead the team as the new general manager of Sofitel Adelaide.
Eger has spent almost 10 years with Accor throughout his career, in addition to being general manager of Mayfair Hotel in Adelaide and working on the private resort at Hayman Island, now the InterContinental Hayman Island.
"Originally from South Australia, I have enjoyed seeing the considerable development within the state's hospitality and tourism sector over recent years," said Eger.
"To be part of this leading property which plays such an important role in this growth is a tremendous honour."
New GM for Daydream Island
Marcus Taylor has joined Daydream Island as its new general manager, coming back to the Whitsundays after spending 13 years working on Hamilton Island earlier in his career.
Most recently Taylor was Area General Manager for Rydges Port Macquarie and Sails Port Macquarie by Rydges.
"I'm thrilled to be returning to the Whitsundays as general manager at Daydream Island Resort and Living Reef and am excited to be working with such a talented team of individuals," said Taylor.
"We've been lucky enough to welcome a number of new faces who not only bring a wealth of experience but a fresh new approach to our guest experience.
"Having previously worked in the Whitsundays, I've got the benefit of years of local knowledge which I'm using to my advantage to ensure we create a truly memorable experience for each and every one of our guests. I'm extremely passionate about the Island and what it offers and hope to be able to share this passion with all those who visit," he said.
Movement in Cairns
In Tropical North Queensland, general manager of Novotel Cairns Oasis Resort, Scott Grant has moved over to the largest hotel in Cairns, the 321-room Pullman Cairns International, where he will take up the GM role.
Grant oversaw the recent refurbishment of Novotel Cairns Oasis and Accor also credits Grant for being a major force in improving gender diversity and inclusion across the hotel group.