Providing an energetic and amusing contrast to a formal awards gala dinner, The Venues Collection put on a celebration of the Sydney events industry to mark the first iteration of their new initiative, The Vibes Awards.
The awards put a spotlight on qualities prized in the events industry – creativity and flair, hard work, lateral thinking, leadership and team players – with the eight winners drawn from 16 finalists, who all scored well during the application process.
The winners were announced in order of score, with Aeron Dundas from Synergy Effect declared the "top Viber" of 2023, with the highest score.
Others who received awards for 2023 were Vanessa Rolfe from The Misfits Media, Rebekah Walsh from This Space, Natalie Galipienzo from Meet In Manly, Karen Sorensen from K&M Events, Angela Graham from MCI Australia, Anna Sheppard from Bambuddha Group and Tanya Wick from Totem Group.
The awards were held at The Venues Collection's most iconic space, Watersedge at Campbell's Stores, located right on the edge of Sydney Harbour, between the Overseas Passenger Terminal and the Park Hyatt. The event utilised the full flight of the third floor event space, leading attendees through the spaces during the evening.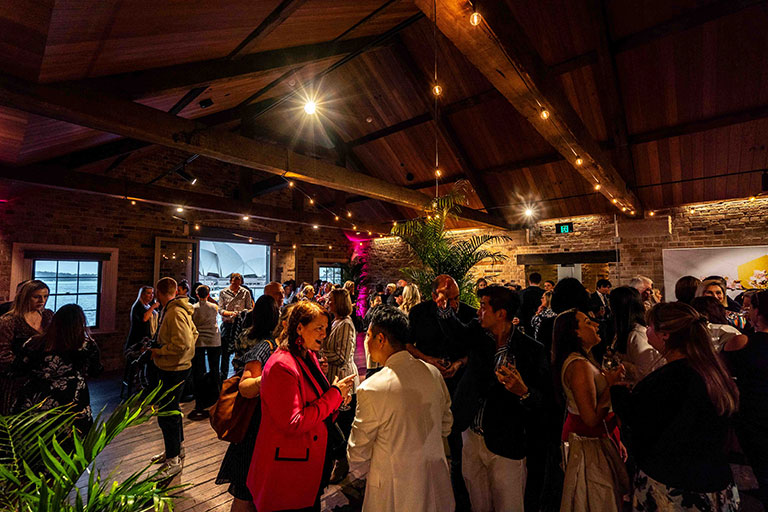 "It's a beautiful business but it's a hard business and I take my hat off to all of you," said Christopher Drivas, one of the three directors of The Venues Collection, in an onstage interview during the evening conducted by The Venues Collection's chief commercial officer, El Kwang, who emceed the event in his signature irreverent style.
In keeping with the mission of the awards, Drivas acknowledged the importance of people in the events industry.
"We're a people business – we have to look after our people, we have to do the right thing by them, we have to support them and at the end of the day, the buck stops at them and starts at them."
The night also included a showcase of a new immersive dining experience available at Watersedge from Sixth Sense Experiences.
Managing director of Sixth Sense Experiences, Cesar Ramirez, called it "such a privilege" to be partnering with Watersedge on the new dining experience. He described the offering as a blend of technology and gastronomy before giving attendees a glimpse of what's possible, featuring light, sound and beautiful table and plate projections. With Watersedge divided into several interconnected spaces, the venue is ideally suited to this kind of experience.
Alongside quips from Kwang like "sometimes we do save lives" the evening featured a strong demonstration of the hosting capabilities at Watersedge and included showcases from within and outside the precinct.