Spending most of his career in the business events space for hotel brands, Jones has made his way from the Rydges group to Hayman Island and then onto IHG Hotels and Resorts (IHG) where he's currently the vice president of commercial for Australasia, Japan and the Pacific.
The role gives him a unique perspective on how trends have emerged and how the industry has recovered from the lockdown years of the pandemic, not just in Australia, but in the wider region.
As with many venues, he says, the surge of enquiries and bookings came with the pent-up demand. "We've seen immediate spikes in every market," he says. "In New Zealand and Australia, certainly, and in Japan, we saw the same as the borders reopened."
With these bookings, he adds, come the expectations and requests that are seemingly standard for business events in terms of sustainability and social responsibility – both of which are taken seriously throughout IHG's brands to meet the expectations of planners and guests.
"It doesn't seem to be just a tick box either," he explains. "From an enquiry perspective, it seems very genuine, as in they want to understand what we're doing. If there are things like carbon offsets, what are our contributions? This is from both third party and from corporate direct as well."
IHG's partnership with OzHarvest, sees them combatting food waste through a food rescue program while participation in OzHarvest's Nourish Program provides scholarships for at-risk youths to earn a Certificate II or III in Hospitality. IHG's sponsorship of the program provides these young workers with on-the-job training and mentorship within IHG's food and beverage teams, cultivating new talent and career opportunities.
Their sustainability initiatives also encompass several programs to cut down on plastic and water waste, including electric vehicle charging stations, reducing their carbon footprint, and energy consumption via partnerships with local, ethical suppliers.
Jones says that in addition to sustainability initiatives, wellness programs have become an essential addition to delegates' itineraries, with activities such as morning yoga, bicycles being made available to guests or morning beach walks for delegates. Healthier menu options including more vegetarian and vegan options are now standard fare.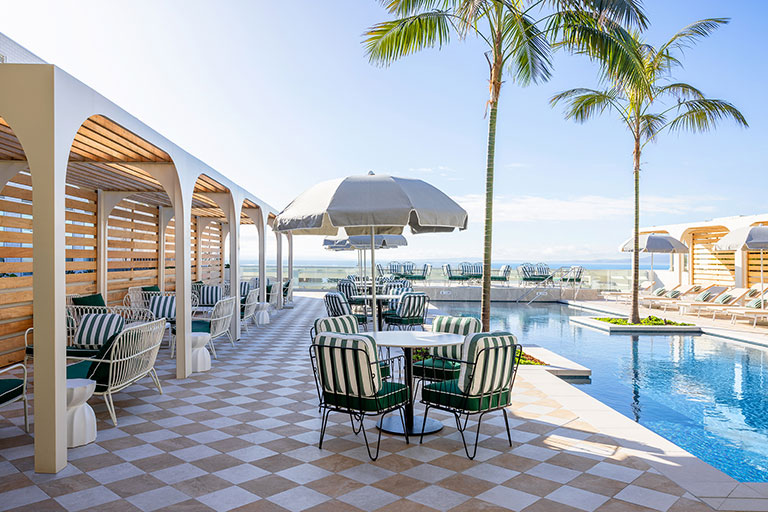 But above all the trends, what might surprise planners about the IHG brands is their move away from what some may consider a 'city hotel' image into an active interest in regional and suburban areas, illustrated by the recent openings of the beachy InterContinental Sorrento, the new Holiday Inn Express on the Sunshine Coast, Holiday Inn Dandenong as well as the newly-announced Crowne Plaza to be built as part of the new Geelong Convention Centre.
It's all part of doing business events differently, says Jones, to better serve these markets, offering a service that's reflective of the location.
"We're doing things a little differently," he says, offering an example of InterContinental Hayman Island. "Groups are met at the airport to begin a luxury launch transfer to the property. The moment you essentially step off the plane and onto your launch transfer, the experience begins and it's important we create that positive incentive experience immediately."
InterContinental Hayman Island, which has been particularly popular with the incentive market, is one that IHG is noticing a particularly quick comeback following COVID.
"There's a lot of work going into the incentive market again, particularly with inbound returning," he says, adding that this motivates more development and greater investment back into hotels.
Even during COVID, the brand continued to invest, with a $120-million investment in the refurbishment of the Intercontinental Sydney, located within the heritage-listed Treasury building of 1851, including a redesign of guest rooms, public spaces, wellness areas, the club lounge, and restaurants and bars, including the launch of a new bar and dining destination The Treasury, located in the original cortile of the building.
"We launched three new hotels in the middle of COVID," he says, referring to Melbourne, Adelaide and Hobart. "For a few moments there, we were thinking, 'Oh, gosh, how's this going to go?' and it's passed all expectation, thankfully. But we had Melbourne, we had Adelaide, we had Hobart – all brand-new builds."
The investment is set to continue, he says with the opening of Crowne Plaza Nadi at the end of the year. Pullman Nadi Bay will undergo refurbishment and extension to be rebranded as Crowne Plaza offering 324 refurbished rooms, a food, beverage and lifestyle precinct with a new day spa, and a 600-seat convention centre, expanding the hotel's existing event offerings along a beachfront stretch in Fiji.
"The Crowne Plaza Nadi opening at the end of this year will be absolutely perfect for the business events market, particularly incentives," says Jones.