Bobeldyk speaks to micenet about why everything you think you know about business events in Mackay is probably wrong.
It's a common assumption that regional areas lack the infrastructure and technology to create memorable events. As the manager of MECC and its events, Bobeldyk says that in the case of Mackay that's simply untrue.
"If you can do it in Sydney, Melbourne or Brisbane, you can do it in Mackay," he says. But that's not the only misconception event planners often have about the destination.
"People tend to think that Mackay is a mining town, It's not. Mackay is a mining services suburb, so we do provide a lot of services to the mines, we're not actually a mining town. And so they're quite shocked when they get here and realise that the first thing you see when you get off the plane is cane fields," he explains. "Interestingly, everyone who's never been here says this isn't what they expected."
"We've also got Wildcat [Mackay, an islanding tour operator], so we can do snorkelling, sunset cruises, private charters. We've got rainforests to the west of us, we've got some beautiful beaches, and we have lots and lots that you can do in this area.
The sugar cane isn't the only thing that surprises event planners, he says.
"Believe it or not, the council owns a distillery. It's called the Sarina Sugar Shed and it's an award-winning attraction about a half hour south of town," he says. "It's a miniature sugar mill and distillery that specialises in rums and liquors and sauces and chutneys, homemade fudges and it also makes brilliant delegate gifts."
While Bobeldyk insists that Mackay can deliver events of equal quality to any major city, he also believes MECC has the creative capacity to go further than many city convention centres.
Owned by the council, MECC was built roughly ten years ago and is the largest convention centre between Brisbane and Cairns.
"It was built next to the theatre, so that works really well. We can use the theatre for up to 1,090 and then we've got the halls for exhibitions and breakout spaces and you can use the combinations in any way that you want.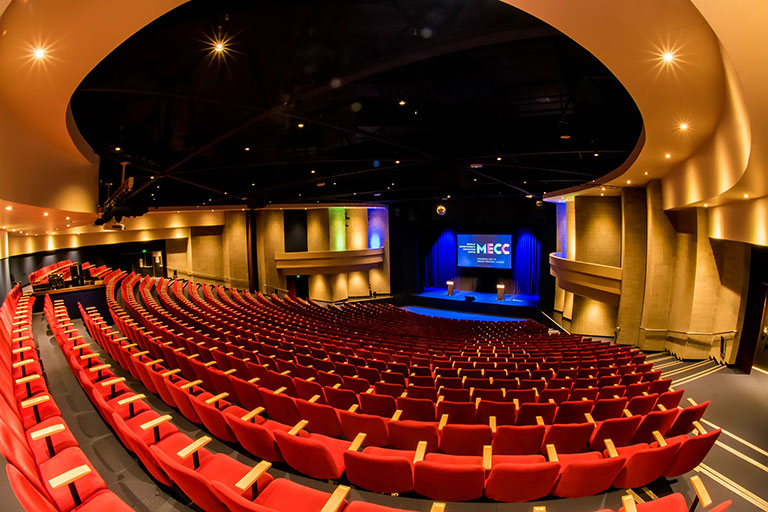 "I started off in the theatre industry," he says adding that his first roles in the industry were gaffing mic cables, sweeping floors and working as a technician.
"From there, I started managing venues and over time, I grew and then decided to move back up north. An opportunity came up at MECC and I knew the theatre from when I was 17," he says. "First opened in 1987; so I knew it well."

Perhaps it's the intimate knowledge of the space that allows the event team here to take a creative theatrical approach to events.
"We've hosted lots of interesting events over the years. Probably the most interesting was when I was with an event organiser and I was giving them a tour and they pointed to some fuel tanks and they said, 'Oh, wouldn't it be good to do an event on a tank? I said, 'Well, maybe not a fuel tank, that would be bad.'"
As a surprise for that organiser, Bobeldyk organised a secret lunch for roughly 80 guests on one of the highest points of Mackay: a council-owned water tank.
"It goes to show that we can do things that you can't do in a capital city. We were just very lucky that this particular event organiser trusted me enough to provide her clients with an experience like never before and was happy to give us ownership over this. And it went very, very well. They were absolutely stoked and it was an experience not to be forgotten."
Since the water tower lunch, he says they've seen an increase in planners seeking requests for quirky off-site spaces and activities.
"And that's okay, we can work with that, as long as we've got plenty of notice. Everyone's looking for a different experience because it's all about the experience. And in Mackay, you can get that."
It's an approach that's seen them well ahead of pre-COVID bookings, so far by more than 30 events a year. Bobeldyk says it's a big surge for all events including business events and arts events.
He says in the past planners may have had reservations about the region's production and technology, but yet again, it's another misconception.
"I think that's a major concern for some people because they don't think that you have the technology in the regions that you would in a capital city. And I would like to dispute that. Council has never scrimped on the best PAs, the best AV.
"We can stream everything. All the production is owned and operated by council in the venue and it's just as high quality as you'll find in any major city."