"They aren't too dissimilar," he says. "Even though the natural environment is very different, they're similar by way of having events and meeting spaces in this incredibly natural, beautiful environment."
And while Hamilton Island's beauty and accommodating weather is a big draw card, Boileau says the destination's ability to blend its gorgeous natural surroundings with inspiration to create something extraordinary is what truly sells it.
"It also helps having a team of people who really have an imagination, creativity and passion for it," he adds. "That can really listen to what clients [are] hoping for and create some really bespoke moments. It evokes that journey that every conference and event can be purpose-built and bespoke in an already incredibly alluring beautiful, natural kind of environment."
There are three business events accommodation options available on Hamilton Island: the exclusive ultra-luxury gated Qualia with only 60 pavilions, ideal for incentives, the 364-room Reef View Hotel opposite Catseye Beach with several event spaces and the island's 750-pax conference centre accessible by a walkway, and Beach Club, the boutique 57-room luxury property, perfect for wellness retreats and recharging.
On Hamilton Island, delegates can arrive in the morning to the on-island airport, get down to business with fresh ideas and have their batteries recharged by the afternoon.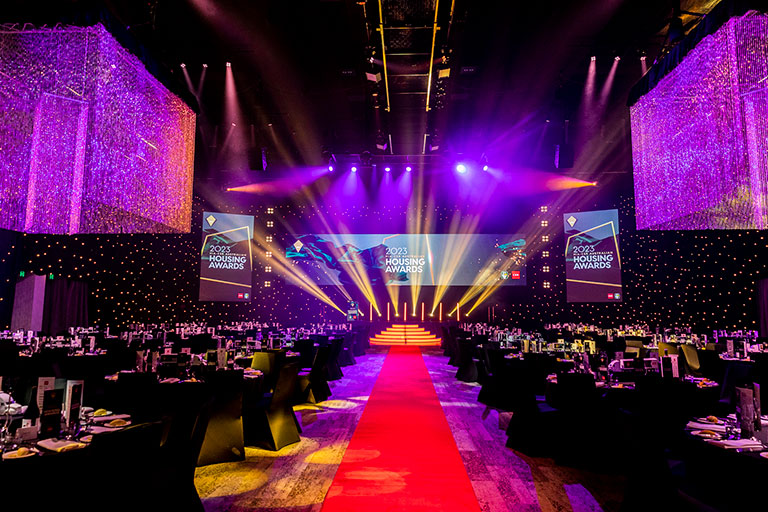 "The destination really connects with the client and the delegates, you know, when they're removed from their normal environments and brought to a place like Hamilton Island, it seems to have this kind of creative influence as well for everybody to just shut down all the norms in their life and open up the doors of possibility," he adds.
Boileau also credits the ease of logistics, connectivity, and proximity of everything on the island to its popularity with planners. The ability to keep delegates together, easily transport them from accommodation to off-site event spaces, tours, dining and activities and have it all organised under one master account rather than several suppliers is a huge bonus.
"They end up being able to keep their large groups together and moving people around is easy. Being able to create bespoke end-to-end journeys for the delegates from the time they arrive at the airport, being able to create interesting things that connect the delegates to the destination.
"Whether it's group check-ins at One Tree Hill or on the marina, these sorts of things start that one-of-a-kind journey immediately from the airport."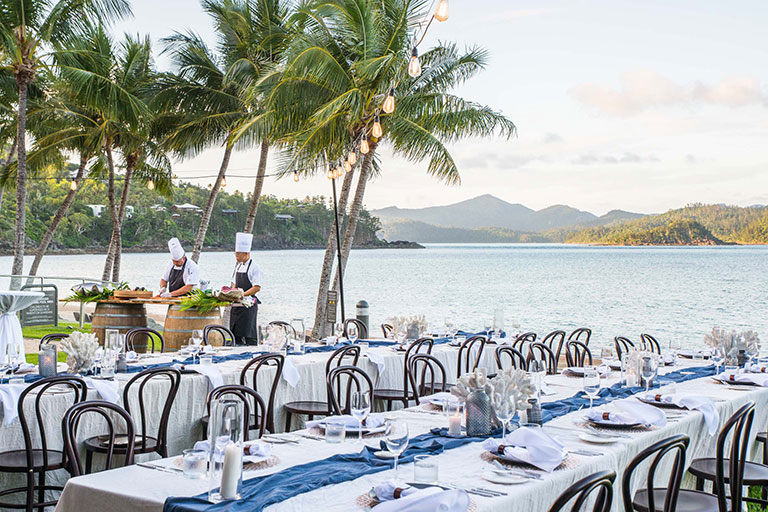 From unique street parties with casual food stalls and marina front dinners to beach BBQs and more, the group experiences here are pretty special, he says.
"One of my favourite events is our Water's Edge Extravaganza with delegates on the beach and waiters appearing to come out of the ocean walking through a fountain of pyrotechnics. Platters of seafood; delegates can feel the sand, smell the salt and sea in the air.
"You're having oysters freshly shucked right in front of you and palm trees, fireworks, lighting, it just takes what's natural and beautiful to the next level of wow.
"We've got an extraordinary culinary team that can do some remarkable bespoke concepts on location, whether it's Whitehaven Beach or a secluded private location around the island or a larger gala setting. They have this most extraordinary ability to produce incredibly fresh, regional delicious food that is also beautiful on the plate."
Boileau echoes the trends of groups looking for sustainable solutions and programs as well as wellness-focused offerings. He says the destination, particularly as part of the Great Barrier Reef, takes a very serious approach to environmental custodianship.
"Besides our business-as-usual sustainability, whether it's recycling and phosphate management, water treatment, we've removed single-use amenities in rooms, we don't have straws and we give all of our delegates reusable water bottles as part of the conference packaging but it's also organisers looking for educational engagement," he says.
This can include educational sessions and tours to the reef and Whitehaven Beach with experts including marine specialists and biologists further connecting people with the destination.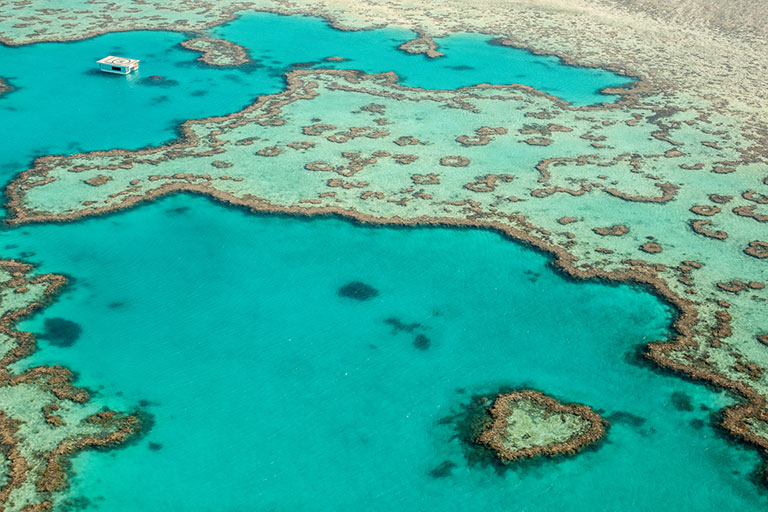 Perhaps one of the most iconic elements of the car-free island is the golf buggy. Boileau says the buggies have playfully made their way into delegate programs beyond general transport with buggy rallies almost as popular a choice as golfing for groups.
"It's a really interesting way of finding your bearings on the island, look around, have some fun and get to know each other.
"You can't help but smile and laugh. They're all electric, quiet. Their highest speed is 20km and it connects them to the idea of slowing down a little and enjoying each other and the views. It's kind of hard to be stressed on a buggy, there's no traffic lights or anxiety, just fun."
If you've been to Hamilton Island before, it's time to visit again with the renovation of the Convention Centre over the last few years being only the starting point of further developments, including an additional 60-room property on the foreshore of Catseye Beach. Calling it similar to the existing adults-only Beach Club but suited to families, Boileau says it'll be an exciting addition for early 2025 worth keeping an eye on.