New chair for TEQ
Tourism and Events Queensland (TEQ) has appointed experienced and decorated industry leader Grant Hunt AM to chair its board.
Hunt is a current director of Voyages Indigenous Tourism Australia – where he was also CEO between 1996 and 2006 and again between 2018 and 2020 – and of Discovery Parks.
He has also previously chaired the boards of Tourism Tasmania, Tourism Northern Territory and Visit Sunshine Coast, in addition to being a former member of Tourism Australia's board.
In 2020, he received an Order of Australia for his contribution to Australia's tourism industry.
"Grant Hunt joins the TEQ board to drive once-in-a-generation opportunities for Queensland tourism operators ahead of the 2032 Olympic and Paralympic Games," said Queensland's tourism minister Stirling Hinchliffe.
"With expertise in First Nations and nature-based visitor experiences, Grant is well-credentialled to back Queensland to shine with an $11 billion international visitor economy by 2032."
Hunt's appointment comes with the departure of Brett Godfrey who has led the TEQ board since 2017 and who Hinchliffe describes as leaving behind "big shoes to fill".
For his part, Hunt says he sees "a real sense of optimism in the industry".
"I'm determined that TEQ capitalises on that through innovative marketing campaigns and a calendar of world-class events which will bring even more visitors to our beautiful state.
"What Queensland has can be found nowhere else on earth – whether it be the Great Barrier Reef and our ancient rainforests, to the vast Outback, to our pristine national parks and two of the world's oldest living cultures.
"This is exactly what travellers across Australia and the world are demanding right now, which means we are perfectly placed to capitalise on this decade of opportunity."
The Star Brisbane makes first major food and beverage appointment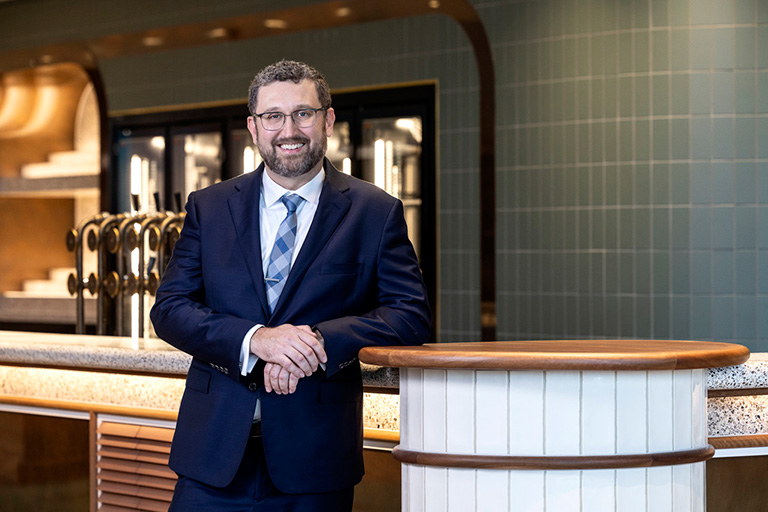 Dustin Osuch will be at the helm of the food and beverage experience at The Star Brisbane, due to begin a staged opening as part of the $3.6 billion Queen's Wharf development in April next year.
As the general manager of food and beverage and events, Osuch will oversee the culinary offering at The Star Brisbane's Event Centre, which includes Brisbane's largest hotel ballroom, with capacity for 2,000 attendees.
Osuch moves over from fellow Star Entertainment Group property, The Star Gold Coast, where he was senior manager of F&B capital projects. He has previous experience in executive positions at a Michelin-starred restaurant in Chicago, USA, and at the MGM Grand in Las Vegas.
"This is a rare opportunity and a real privilege to be part of a wonderful team preparing to open this iconic property," he said.
"There are not many integrated resorts in Australia, in fact not many of this calibre in the world, so it's a unique time to be working in hospitality in Brisbane.
"There will be an exciting array of restaurants and bars that will offer something for everyone; Italian, Japanese, a-la carte, premium dining, coffee pop ups, live music venues, cocktail bars, all day dining and of course Sky Deck, which will be in demand with a signature restaurant, hero bar and casual dining outlets all served up with a view," said Osuch of the soon-to-open complex at Queen's Wharf.
"We will also have a focus on the best of Queensland, supporting local producers and businesses and the amazing food and wine we have in the state."
Osuch will oversee the transfer of 400 food and beverage staff from Treasury Brisbane, The Star's existing casino in the city, as well as the recruitment of 400 new staff.
"Our local recruitment programs are ramping up and there are jobs for hundreds of Queenslanders.
"We have one of Australia's best culinary apprentice programs, where we have had great success at finding and fostering homegrown talent.
"Backpackers, students and the visa program will help boost our rosters and we are looking to attract some top culinary talent from overseas.
"It's a huge job but this was always the journey I wanted to be on when I realised I wasn't going to stay a chef anymore. I wanted to be in the business of curating extraordinary guest experiences, through food and community."